A testimony to the US House Committee on Agriculture by the President of CropLife America, Jay Vroom, has caused outrage after he successfully pressured the Committee to investigate the US Environmental Protection Agency's (EPA) review of the World's most used herbicide – glyphosate.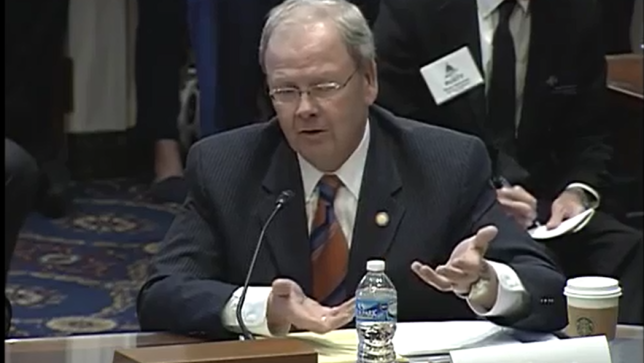 In a scandalous testimony on April 27, Biotech industry leader Vroom complained that the decision by the World Health Organization's cancer agency IARC to classify glyphosate as a 'probable human carcinogen' had been reached with the involvement of an EPA representative; "Oddly, the US government's representative to this IARC monograph came from EPA's Office of Research and Development – not the Office of Pesticide Programs where the expertise in glyphosate resides."
Vroom continued by suggesting that the EPA is breaking the law by not following the industry's wishes to rush through the glyphosate re-approval; "Despite EPA's significant deviations from process, science and, perhaps, even the law, the crop protection industry stands with farmers and rural communities as we all weather the uncertain economic and regulatory headwinds ahead."
CropLife's members include BASF, Bayer CropScience, Dow AgroSciences, DuPont, FMC Corp., Monsanto, Sumitomo and Syngenta.
Vroom concluded by showing the Biotech industry's concerns that they may be losing control of the EPA's decision on the re-approval of glyphosate; "EPA's reluctance to defend its own scientific findings and the safe use of such an important, widely used and well-studied product, is very troubling."
Two weeks after Vroom's testimony the US House Committee on Agriculture sent a letter to the EPA announcing that they were launching an investigation into the glyphosate review, "in a move that shows just how much power the Biotech industry has over elected representatives in the U.S.", according to Sustainable Pulse Director, Henry Rowlands.
THE GLYPHOSATE BOX

1o Things You Need to Know about Glyphosate

5 Things You Need to Know about Glyphosate Testing
The House Committee on Agriculture is the second House Committee to have announced an investigation on this matter. Last week the House of Representatives Committee on Science, Space and Technology launched an investigation into the 'mistaken' release of a draft report by the EPA.
The EPA 'mistakenly' published a draft report online on April 29 by the Cancer Assessment Review Committee (CARC). The report stated that glyphosate is 'not likely to be carcinogenic to humans', which is in direct contradiction to the World Health Organization cancer agency IARC's much more comprehensive report, which stated in 2015 that glyphosate is a "probable human carcinogen".
An EPA assessment on the herbicide atrazine was also posted on the agency's website on April 29 but subsequently taken down. The documents are available here. The assessment said atrazine was found to cause reproductive harm to birds and mammals.
The EPA have now stated that their full final report on glyphosate and atrazine may not even be published this year.