In a decision made public late Friday, a Thurston County Superior Court judge ruled the Grocery Manufacturer's Association violated Washington campaign finance disclosure laws by shielding the identities of major corporate donors funding efforts to defeat a food labeling initiative in Washington.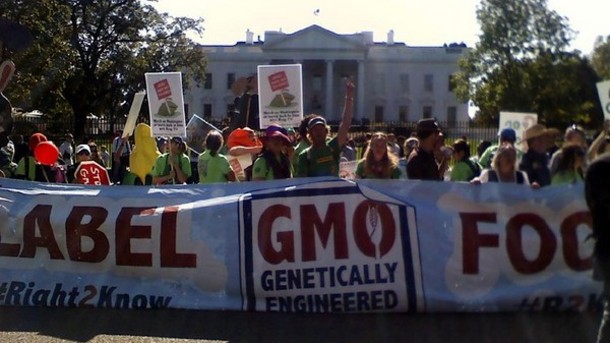 Source: www.atg.wa.gov
"This landmark case has been a long fight for accountability," Attorney General Bob Ferguson said. "This ruling sends an unequivocal message: Big money donors cannot evade Washington law and hide from public scrutiny. My office will hold you accountable."
The case, State v. Grocery Manufacturers Association, concerns GMA's financing of a 2013 campaign against Initiative 522, which sought to require labeling of genetically engineered products. GMA, a Washington, D.C.-based trade association, was the largest single donor to the "No on 522" political committee.
GMA raised $14 million from its members in solicitations for a new "Defense of Brands" account, above and beyond regular member dues. PepsiCo, for example, contributed nearly $3 million to the account, and Nestle and Coca-Cola upwards of $2 million each.
GMA then donated $11 million of the $14 million from corporations to "No on 522." In an effort to shield individual companies from required disclosure, the money was listed as coming from GMA, not the actual donors, such as Pepsi, Nestle and Coke.
"In enacting the Public Campaign Finance Laws, the people of Washington directed that they be interpreted liberally, to promote transparency and full disclosure to the voters," Judge Anne Hirsch's decision reads. "By its actions creating the [Defense of Brands] account, the GMA violated the spirit and letter of Washington's Public Campaign Finance Laws."
The court also determined that there remains a factual dispute whether GMA's violation of the law was intentional. The court, therefore, did not determine what penalty would be imposed at this point in the proceedings, and the case will continue to trial on the disputed facts. Under the law, sanctions for campaign finance disclosure violations can include a penalty equal to the amount not reported as required. If the court finds that the violation was intentional, that penalty amount can be tripled.
Ferguson filed the lawsuit against GMA in October 2013. Internal GMA documents released as a result of this lawsuit revealed a systematic effort to conceal the true sources of $11 million in contributions to oppose I-522.
For example, meeting minutes from the GMA Board's Finance and Audit Committee meeting show a discussion on the creation of the "Defense of Brands Strategic Account," largely to oppose I-522: "By doing so, state GMO related spending will be identified as having come from GMA, which will provide anonymity and eliminate state filing requirements for contributing members." In a GMA Executive Committee meeting, the Executive Vice President for Government Affairs noted that the fund would "shield individual companies from public disclosure and possible criticism."
"The undisputed evidence further shows that the GMA's intent was to create a plan to 'provide anonymity and eliminate state filing requirements for contributing members,'" Judge Hirsch wrote, citing GMA's own documents. "As a matter of law, GMA members had knowledge of the plan to conceal the true source of contributions received and expenditures made in opposing I-522 and therefore GMA violated" Washington's campaign finance laws.
The court also found: "There is one, and only one, reasonable inference that can be drawn from the facts before this court: that the GMA intentionally took steps to create and then hide the true source of the funds in the DOB account from the voting public of Washington State."
In 2013, the top 10 contributors to GMA's Defense of Brands account and their contributions (as of 12/3/13) were:
PepsiCo: $2.696 million
Nestle USA, Inc.: $1.751 million
The Coca-Cola Company: $1.742 million
General Mills: $996,000
ConAgra: $949,000
Campbell Soup: $441,000
The Hershey Company: $413,000
J.M. Smucker: $401,000
Kellogg: $369,000
Land O'Lakes: $332,000
Katrina Asay, chair of the Public Disclosure Commission, praised the decision: "The Commission is very pleased with the ruling. This case sends a strong message that the Commission will not tolerate efforts to conceal the truth about who is funding campaigns and attempting to influence elections. We appreciate how quickly the Attorney General acted in this matter, and we believe his staff did a great job of defending Washington's campaign disclosure requirements for the people of Washington State."
Senior Assistant Attorney General Linda Dalton, Deputy Solicitor General Callie Castillo, and Assistant Attorney General Garth Ahearn are handling this case.