A never-before-seen draft environmental review of AquaBounty Technologies' (ABTX) genetically engineered (GE) salmon reveals that Canadian government scientists disagree with the U.S. Food and Drug Administration on key questions related to the safety and performance of what may be the first GE animal approved for human consumption. In light of these findings, Food & Water Watch, Center for Food Safety, Friends of the Earth and Consumers Union today called on the FDA to terminate its ongoing review of GE salmon.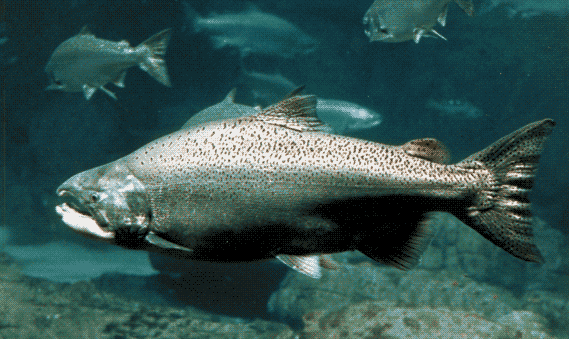 Source: Friends of the Earth
The partially redacted, 400-page draft risk assessment from the Canadian Department of Fisheries and Oceans makes startling findings about the welfare and performance of GE salmon, including that GE salmon:
Are more susceptible to Aeromonas salmonicida, a type of disease-causing bacteria, than non-GE domesticated salmon, which indicates unique animal health problems and raises environmental and public health concerns that the FDA has never considered.
Are exhibiting dramatically diminished growth rates in AquaBounty's commercial facilities, casting more doubt on the widely disputed claims about the accelerated growth rates of GE salmon.
Are displaying widely varied performance, including inconsistent growth rates, suggesting that the growth-hormone gene construct inserted in the fish is not operating in a predictable manner, raising questions about the durability, safety and commercial viability of GE salmon.
"The findings from the Canadian risk assessment show that FDA has based its assessment of this totally unnecessary technology on blind trust," said Wenonah Hauter. "It's clear that there are unique safety issues that FDA has failed to consider, which is why we are calling on the agency to terminate its review of GMO salmon."
The contradictions found in the Canadian risk assessment follow a series of embarrassing missteps in the FDA's ongoing regulatory review of GE salmon, including the FDA's failure to document two major biosecurity lapses at AquaBounty, including a storm-related mechanical failure that involved "lost" salmon. Additionally, in 2014, it was discovered that AquaBounty's production facility in Panama has been operating without legally required permits related to environmental safety.
"The modus operandi at FDA is to rubber stamp AquaBounty's flawed and biased studies and then call its review process 'science-based,'" said Jaydee Hanson, Senior Policy Analyst at the Center for Food Safety.  "FDA's inadequate risk assessment is at odds with reality, with science and with the public, which has long called on the agency to put consumers' health and environmental safety ahead of the corporate interests of the biotechnology industry."
The 2013 Canadian draft risk assessment recently became public through a legal battle over Canadian regulators' approval of commercial GE salmon production, which several public-interests groups are challenging. No government anywhere in the world has ever approved GE salmon for consumption or declared it safe to eat, and commercial production has not yet begun. The FDA's regulatory approval is still pending.
"Major grocery chains, consumers and salmon producers are all rejecting genetically engineered salmon," said Dana Perls, food and technology campaigner for Friends of the Earth. "This new assessment adds to the body of science showing that this genetically engineered fish doesn't offer any benefit to aquaculture, has unique health problems and presents environmental risks. Why is the FDA continuing to spend scarce tax-payer dollars reviewing this fish that offers all risk and no reward?"
The commercial salmon industry has long disputed AquaBounty's claims that GE salmon can reach market weight in half the time as conventional salmon. A variety of sources, including new data found in the Canadian risk assessment, indicate that GE salmon probably grow slower than the highly domesticated Atlantic salmon currently in commercial production. The only benefit claim that AquaBounty submitted to the FDA for regulatory approval is fast growth.