GMO Free USA has published the results of independent lab testing which documented that Gerber Lil' Crunchies Veggie Dip Baked Whole Grain Corn toddler snack contains high levels of herbicide tolerant, insecticide producing genetically engineered corn.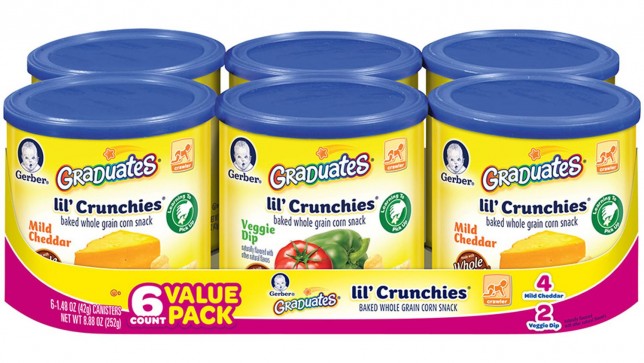 GMO Free USA stated; "We sent a package of Gerber Graduates Lil' Crunchies Veggie Dip Baked Whole Grain Corn Snack to a certified lab to test for the presence of GMO material. The quantitative PCR test verified, by DNA analysis, that 100% of the corn in the Lil' Crunchies Veggie Dip was GMO. All of the corn has been genetically engineered to be herbicide tolerant (Roundup Ready) and the corn contained DNA sequences known to be present in Bt insecticide-producing GMO corn."
In 2012, the American Academy of Pediatrics (AAP), issued a policy statement recommending that children's exposure to pesticides be reduced. Yet Nestlé doesn't have a problem with feeding babies genetically modified corn that is a pesticide regulated by the EPA.
"As a physician in Hawaii I remain gravely concerned about the impact pesticides and pesticide dependent crops have on our children's development,"  said Josh Green M.D., Hawaii State Senator.
Nestlé's corporate head of sustainable agriculture, Hans Jöhr, previously stated, "We have a very simple way of looking at GM: listen to what the consumer wants. If they don't want it in products, you don't put them in."
"American mothers are outraged that Nestlé continues to experiment on our babies with their Gerber brand. In response to consumer outcry, Nestlé removed GMOs from their baby and toddler foods in South Africa in 2013. Why not in America? The scientific evidence against GM foods is mounting," says Diana Reeves, Executive Director of GMO Free USA and mother of three.
GMO Free USA is calling on Gerber to commit to removing GMO ingredients from all of their products and to enroll in the Non-GMO Project for third party verification.
Read the Gerber Lil' Crunchies Veggie Dip test results report here:  www.gmofreeusa.org/food-testing/gerber-lil-crunchies/