The Chinese 'Science & Technology Abstracts Newspaper' under the leadership of China's State Science & Technology Ministry has published a paper that may deeply damage the Biotech industry worldwide.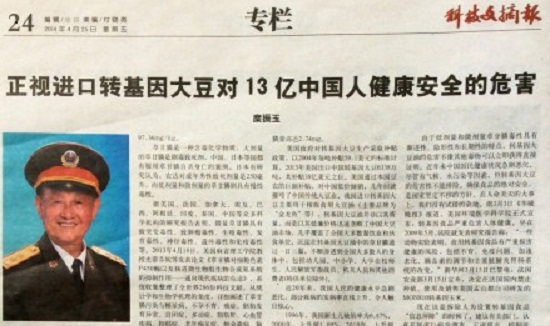 Source: weibo.com
The published paper titled 'Must face up to the harm caused by imported GM soybeans to the health of 1.3 billion Chinese people' was written by Lieutenant General Mi Zhenyu, Vice President of the Academy of Military Science of China.
The paper shows that members of the Chinese Government have now realized that GM soybeans are causing health damage to their population, which may lead to a looming total ban on all GM soybean imports.
One of the main points in the Paper reads; "China must adopt strong preventative measures to assure bottom line protection for the life safety and health safety of the people".
China is currently the largest importer of Roundup Ready Soybeans from the U.S. and Brazil and the main export market for GM soybean farmers in all GM soybean producing countries. A list of 100 Chinese companies that have imported 60 million tons of GM soybeans was recently leaked to the Chinese media.
The Full Source Article will be published by Sustainable Pulse in English when it is made available.