British organisation GM Freeze has offered congratulations to farmers and consumers as 2014 marks the first year since 2007 that no GM trials will be conducted in UK fields, and no new GM field trials are expected.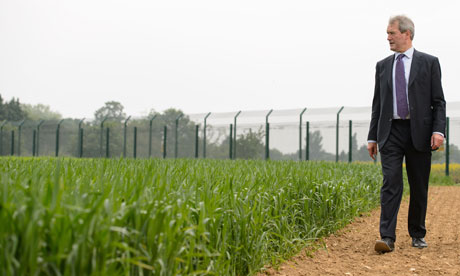 Different GM potatoes have been trialled in Leeds, Norfolk and Cambridgeshire in recent years, and GM wheat was trialled during 2012/13 in Hertfordshire, but the end of the GM wheat trial leaves zero GM in UK fields. According to the UK Government, "Defra currently has no [GM trial] applications under consideration."
GM Freeze Director Helena Paul said:
"We're celebrating a GM-free 2014 in UK fields – long may it continue. We congratulate the millions of UK farmers and shoppers standing up for what is right for their businesses and families, and we're standing right beside them.
"No matter what it says, the GM industry just hasn't produced anything UK farmers can use or that consumers want. Instead the industry colludes with the Government to rig public dialogues, botch consultations, remove necessary regulations and proposes using public money to force pro-GM "education" onto the curriculum.
"The aims of the GM wheat trial were never clear, despite the legal requirement for this information to be public before consent for such trials can be granted. We know that over the longer term GM crops cause more problems for farmers than they solve, and GM Freeze still wonders why the many risks were taken for such an unclear goal – unless it was simply to attract funding for further GM research and development. Of course it is also possible the consent given was the result of an assessment process that lacked the necessary rigour to comply with the law.
"In any case we hope that the science establishment in the UK has learned that there is plenty of important and highly productive non-GM research needed, and the UK should be aiming to emerge as a centre of excellence in these areas rather than pursuing unnecessary GM crops that no one wants."
This positive news from the UK comes despite the support for the biotech industry from Environment Secretary Owen Paterson, who even went as far as labeling all GMO Free campaigners as 'wicked' in 2013.
The UK Government also confirmed in November that it will support Monsanto in a European court case brought by European civil society groups. In a written Parliamentary Answer, Earl Howe stated that the Government will intervene in the European Court of Justice to support the biotechnology giant, which wishes to import a GMO soy variety called Intacta into the EU for food and feed uses.
Civil society groups (including ENSSER, Testbiotech, the Foundation on Future Farming, and the German Family Farmers Association) filed a lawsuit in March 2013, claiming that the European Food Safety Authority (EFSA) had recommended approval for the "stacked" GMO variety without carrying out proper risk assessments as required by law.