Brazilian farmers are suing Monsanto for allegedly collecting royalties illegally and for forcing farmers to sign "abusive" purchase contracts, GM Watch reported Monday.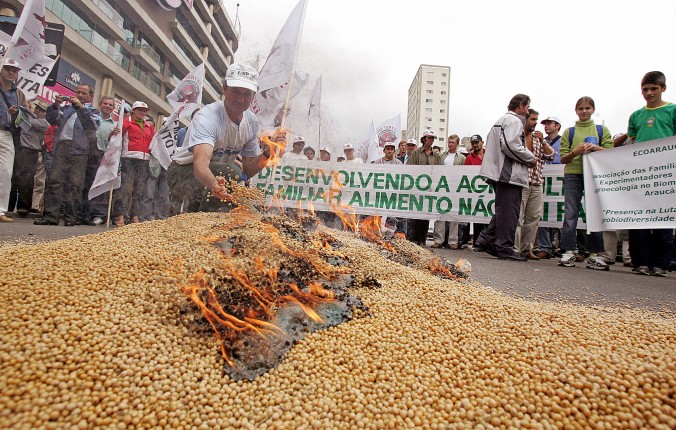 In Brazil, farmer-led court actions are piling up against Monsanto for collecting royalties on RR1 soybeans regarded as illegal and for conditioning the sale of new GM seed Intacta RR2 to the signing of a contract seen as abusive, according to an article for Valor Online (Brazil). Lawyers for the farmers and representative bodies estimate the value of the claims against Monsanto at 1.9 billion Brazilian real (about USD 1 billion). Processes have not been completed, but preliminary estimates say the claims may affect the company's profits.
According to Orlando Julius Caesar, lawyer for the Sinop Rural Union, a settlement reached in a previous lawsuit against Monsanto has resulted in many farmers refusing to buy Monsanto's seed. "Monsanto is trying to create market rules that do not exist for any other product," he said.
Article in Portuguese from the Brazilian press:
www.isebvmf.com.br/index.php?r=noticias/view&id=275510
In October 2013 Judge Alex Nunes Figueiredo, of the Specialized Court for Civil Actions of Mato Grosso/Cuiaba, blocked Monsanto's attempt to make Brazilian farmers sign restrictive agreements before they can gain access to the company's new GM seed, RR2 Intacta soybeans.
The background to this story is that last year the Brazilian Supreme Court ruled that Monsanto had collected royalties from farmers illegally for its RR1 soybeans and that the company must refund the farmers.
Monsanto then reached a deal with Famato and other farmers' unions. The deal was that farmers who wanted to plant RR2 Intacta soybeans would sign an agreement with Monsanto at point of purchase, waiving their rights to a refund of the illegally collected royalties.
Any farmer who signed the agreement would also be signing away other important rights. He would grant Monsanto the right to enter and inspect his property at any time. The farmer would be left completely vulnerable to ANY decisions the company might make, including royalty fee increases or having part of his harvest confiscated – and he would agree not to sue Monsanto at any time. At the same time, the company does not guarantee a yield increase from RR2 Intacta.
The farmer would also agree to "the declaration of principles that recognise the intellectual property rights on agricultural technologies". This contravenes Brazilian seed law, which protects farmers' rights to save seed and to use or sell the products of their own cultivation. In short, the agreement put Monsanto's interests above Brazilian law and deprived farmers of their rights.
In the latest ruling on 11 October, Judge Figueiredo blocked Monsanto's demands that farmers sign the agreement as a condition to buy RR2. The judge said that Monsanto is unfairly taking advantage of its favorable position in the market as the only technology provider of Intacta RR2, in forcing farmers to "to comply with clauses that are burdensome, if not illegal" as a condition of purchasing the product. In addition, the judge said that Monsanto's agreement may contravene Brazilian consumer law.