New revelations have undermined the myth that GM soy and Roundup residues are essentially harmless components in the European animal feed supply chain.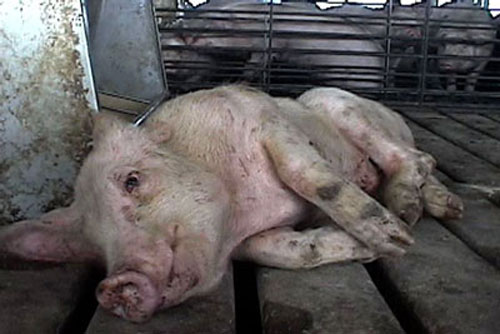 A farming newspaper (Effektivt Landbrug) has caused a storm of controversy in Denmark by publishing (1) an extended analysis of the connections made by pig farmer Ib Borup Pedersen between GM soy and health problems in his herd of breeding sows. In an interview for the newspaper, Mr Pedersen contended that there was also a link between Roundup herbicide residues and stillbirths and malformations in pig litters. But most interestingly of all, he explained that since switching the feed in his breeding sow house to non-GM soy, health problems and medical costs have declined dramatically, to the point where the extra costs involved in purchasing non-GM soy feed are more than offset by reduced medication costs. The bottom line is that his farming operation is now more profitable than it was under the GM-soy feeding regime.
It is a long-held belief across most of the livestock farming community in Europe that farmers MUST use GM soy in animal diets in order to operate profitably — but Mr Pedersen says that that is just not true, and that farmers have simply been reluctant to face up to the real costs of their operations, by failing properly to account for medication costs and even by turning a blind eye to animal deaths and ailments. In an Editorial comment the newspaper urged Danish pig farmers not to close ranks but to open up an honest debate on the animal welfare, health and financial implications of the current dependence upon GM soy and Roundup herbicide.
Not surprisingly, the publication of the feature and Editorial has caused a storm of protest within Denmark, partly from vested interests including feed suppliers and agrichemical merchants and partly from those who feel that it is somehow disloyal for anybody — least of all a farming newspaper — to suggest that there might be something amiss in the Danish pig farming industry, which prides itself on high standards and a pristine "brand image."
Following the publication of the newspaper article in Denmark, the Welsh group GM-Free Cymru has conducted extended interviews with Mr Ib Borup Pedersen, and also with a second farmer — Mr Sigurd Christensen — and has obtained a good deal of previously unpublished information. This is contained in a "Denmark Dossier" which can be accessed via this press release.
Speaking for GM-Free Cymru, Dr Brian John says: "These revelations come as no surprise to us. For years we have been picking up on information which suggests that GM crops and Roundup herbicide formulations are linked to animal deaths and health problems. This is supported by experimental evidence from independent research teams — but the GM industry, the European animal feed industry, and the farming community across Europe has been involved in an on-going cover-up which could not possibly be maintained ad infinitum. The EC and the GM regulatory bodies are also implicated in the cover-up, since they have systematically ignored "evidence of harm" brought to their attention over many years.
"We suspect that in many European countries, the pig farming industry is in a state of denial about the health of the animals fed on GM soy and subjected to Roundup residues in the feed chain and in litter; we wonder, for example, how many dead and malformed animals are simply disposed of, with no vets informed and no records kept?
"We now demand that the EU reassesses all of the GM soy consents already given, and puts an immediate halt on any assessments in the pipeline. This is not just an animal welfare issue; we are quite convinced that unless GM soy and Roundup are removed entirely from the animal feed chain, the health of the people of Europe will be seriously compromised."
ENDS
Contact: Dr Brian John GM-Free Cymru Tel 01239-820470
NOTES
1. Pig farmer reaps gains from GMO-free soy, Effektivt Landbrug, 13 April 2012 www.effektivtlandbrug.dk/indhold/sider/artikler/vis_artikel.aspx?id=24261
Not all of the material published in the newspaper is online; the additional material can be provided on request.
2. The PDF entitled "GM Soy linked to health damage in pigs — a Danish Dossier" is to be found here:
www.gmfreecymru.org/pivotal_papers/danish_dossier.html
and here:
gmwatch.org/latest-listing/1-news-items/13882
Source: www.gmfreecymru.org/news/Press_Notice29April2012.htm