GMO Soy farming has been linked to a rise in child cancer deaths in Brazil, the world's biggest producer and exporter of the oilseed and one of the top users of pesticides for protecting crops from disease and pests, according to a study in the South American country.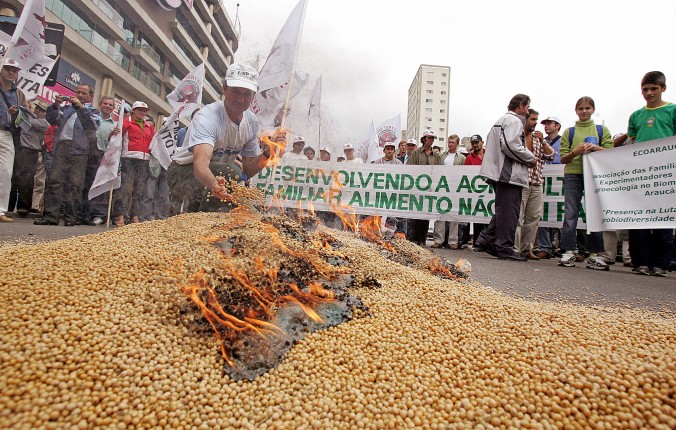 Source: Reuters
The peer-reviewed study published on Monday (Nov 30) in PNAS, the journal of the US National Academy of Sciences, found that as soy cultivation expanded in Brazil, "agricultural pesticide exposure was associated with increased childhood cancer mortality among the broader population indirectly exposed to these chemicals".
The US researchers found a relationship between soy production and related community exposure to agrochemicals including glyphosate, a widely used weedkiller that some genetically modified soybean seeds are designed to tolerate.
"We find a statistically significant increase in paediatric leukemia following expanded local soy production," the PNAS article said, based on Brazilian childhood cancer incidence and disease mortality data spanning 15 years.
Glyphosate Box

Glyphosate Residue Free Certification for Food Brands – Click Here

Test Your Food and Water at Home for Glyphosate – Click Here

Test Your Hair for Glyphosate and other Pesticides – Click Here to Find Our Your Long-Term Exposure
Greater pesticide use is likely contaminating water supplies near soy farms, the researchers speculated.
Specifically, the study found a correlation between soy farming and childhood blood cancers, especially acute lymphoblastic leukemia (ALL), the most common blood cancer in children. This connection comes straight after the presentation of initial data from the Global Glyphosate Study showing that glyphosate-based herbicides cause leukemia in the early life of rats.
There were 123 additional deaths of children under age 10 from 2008 to 2019 from ALL following the expansion of soybean production in Brazil, the researchers found.
That number would have been higher were it not for the country's high-quality cancer treatment centres, the researchers said.
With the use of GMO soy on increasingly larger areas, Brazil's production nearly doubled over the last decade, to a record 154.6 million metric tons this year, according to Brazilian government data.
The country sells most of its soybean exports to China and for years has been competing with the United States, where chemicals such as glyphosate are also widely used, in global soy markets.