Civil society and Indigenous Peoples organisations numbering 373, from 74 countries, urged leaders at a historic global conference to act with urgency to phase out Highly Hazardous Pesticides (HHPs), a particular group of pesticides that cause the most severe harm to human health and the environment and are considered too dangerous for use.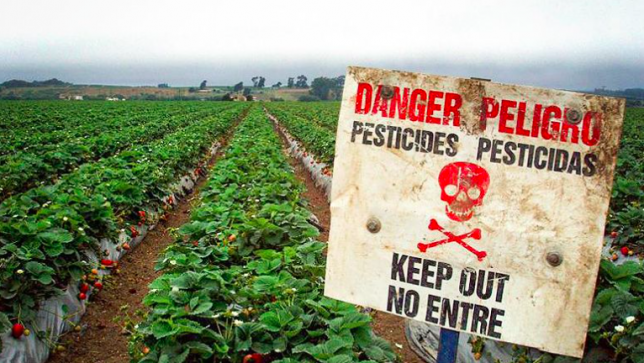 The petition letter to governments and other stakeholders of the Strategic Approach on International Chemicals Management (SAICM) was presented at the opening of the Fifth International Conference on Chemicals Management (ICCM5), with the demand to include in the new SAICM Beyond 2020 framework an ambitious target to phase out HHPs in agriculture by 2030. The ICCM5 hopes to ratify the SAICM Beyond 2020 Framework, a policy instrument defining the direction of global chemicals policy for decades to come.
"Other international policy forums and frameworks, including multilateral agreements on climate change and biodiversity loss, have made significant targeted political commitments on major crises that pose existential threats to humanity and the planet. However, HHPs have remained largely unaddressed," the letter said.
Each year, nearly 400 million farmers and farmworkers are poisoned by pesticides, resulting in around 11,000 deaths–the majority of which occur in the Global South. Because they are highly toxic, HHPs are responsible for a large number of these acute poisoning incidents.
"With all the scientific evidence and documentation available on poisoning cases, soil and water pollution due to Highly Hazardous Pesticides, it is urgent to take ambitious decisions for the phase out of HHPs by 2030. PAN International and its partners denounce the stranglehold of the agrochemical industries on international agreements and call for the establishment of a Global Alliance for the phase out of HHPs and their replacement by healthy and sustainable agroecological practices," Maimouna Diene, Chairperson of PAN International, stated.
The groups – representing farmers, farmworkers, IPs, and other rural peoples; trade unions; environmental and health professionals; scientists and academia; pesticide poisoning victims; and consumer and rights advocates all over the world – also called upon the ICCM5 to:
Include a target for all countries to prohibit the export of substances that they have prohibited nationally, many of which will be HHPs (or to end "double standards" in pesticides trade);
Include a target for all countries to implement policies and programs to support safer and more sustainable non-chemical alternatives to HHPs, especially agroecology; and
Support the proposal of 54 African governments to establish a Global Alliance on Highly Hazardous Pesticides working to phase-out HHPs.
"If the Sustainable Development Goals are to be achieved, ecological collapse is to be averted, and human rights are to be upheld — including the right to food and the right of future generations to a clean and healthy environment — everyone must work together towards eliminating the world's most dangerous pesticides, and phasing-in and scaling-up safer agroecological alternatives," the letter stated.
The groups addressed fears that phasing out HHPs is detrimental to food security, saying that on the contrary, HHPs' toxic impacts on ecosystems negatively affect productivity.
"HHPs have been phased-out in agriculture in a number of countries without affecting agricultural productivity. This has been acknowledged by the Food and Agriculture Organization (FAO) and the World Health Organization (WHO). Safer alternatives to HHPs already exist. Agroecological approaches, in particular, have proven to be effective and sustainable alternatives."
"Farmers are led to believe that pesticides are the easy choices for the problems they are facing in crop production. HHPs are being pushed as technical answers to social problems, and farmers are often made to feel that there is no other way. However, farmers who have been harmed by HHPs and lost family members to poisoning are actively searching for safer alternatives–governments must lead the way in supporting them to transition away from HHPs," Dr. Narasimha Reddy Donthi, Adviser to Maharashtra Association of Pesticide Poisoned Persons, concluded.