The U.S. Fish and Wildlife Service last week denied requests by conservationists and members of Congress to phase out the use of agricultural pesticides on national wildlife refuges.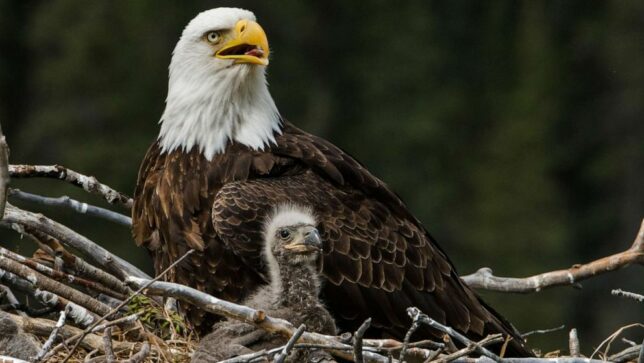 The Service's decision was issued in response to a legal petition filed earlier this year by the Center for Biological Diversity and Center for Food Safety calling for the agency to end uses of the wildlife-killing poisons on the refuges, many of which were established specifically as havens for endangered species.
Last week 12 members of Congress delivered a letter to the Service further requesting that the agency end the use of agricultural pesticides on the refuges due to the poisons' risks to wildlife and human health.
"I'm profoundly disappointed that the Fish and Wildlife Service is ignoring the harm these pesticides cause on refuges that were set aside to protect our most vulnerable plants and animals," said Hannah Connor, an attorney at the Center for Biological Diversity. "If the Biden administration refuses to even take this step to help stop extinctions, it really calls into question its commitment to protecting endangered species at all. It's shameful."
As the Congressional lawmakers wrote in their letter: "[T]here are 3 billion fewer breeding birds in North America than there were in 1970. This is an unprecedented loss and encompasses a 53% reduction in grassland birds, 32% decline in aerial insectivores, and 17% decline in forest birds. Many of these species rely on Refuges for migratory haven and breeding grounds. Risking their survival on the very lands created to shelter them is counterintuitive to the National Wildlife Refuge System's purpose."
The lawmakers also noted that the Environmental Protection Agency has recently determined that some of the most commonly used agricultural chemicals are likely to harm endangered species. As an example they cited glyphosate, a pesticide the EPA recently found to be likely to adversely affect 93% of all endangered plants and animals.
Glyphosate is one of the most widely used agricultural pesticides in the national wildlife refuge system, according to an analysis of refuge records conducted by the Center for Biological Diversity.
Just last month the U.S. Court of Appeals for the 9th Circuit found the EPA's approval of glyphosate to be unlawful, determining that the agency had ignored real-world evidence of cancer risks from using glyphosate and failed to properly consider impacts to endangered species.
"Agricultural pesticides are decimating sensitive insect and bird populations all cross the country. In its petition denial, the Fish and Wildlife Service acknowledged that toxic neonicotinoid pesticides and genetically engineered herbicide-resistant crops serve no purpose on wildlife refuges, but still refused to reinstate the moratorium on their use," said Sylvia Wu, co-petitioner and senior attorney for Center for Food Safety. "This is unacceptable coming from the agency tasked with protecting our sensitive species and wildlife. Our nation's bees and birds deserve more."
The requests made in the petition rejected today are widely supported across the conservation community. In April, on behalf of more than 75 groups across the country, the American Bird Conservancy delivered a letter to the Service supporting the "commonsense protections" called for in the petition.
Home to more than 280 species of protected plants and animals, the national wildlife refuge system is the world's largest and most diverse collection of lands set aside specifically for the preservation of fish and wildlife. Yet the Service continues to allow private operators to grow commercial crops that prompt the annual use of hundreds of thousands of pounds of dangerous pesticides on refuge lands.
In 2018 — the most recent year for which complete data are available — more than 350,000 pounds of agricultural pesticides were sprayed on 363,000 acres of commercial agricultural crops in the refuges. Those figures represent a 34% increase over the acreage sprayed in 2016, according to an analysis of refuge pesticide use.
More than 1 billion pounds of pesticides are used across the United States each year, harming protected wildlife and plants that rely on fields, forests and waterways where the poisons are often used or end up. Pesticides are even frequently used in areas that the Service has legally designated as critical habitat essential for helping species to recover and dodge extinction.
Background
The petition filed by the conservation groups in February 2022 called for the Service to take  immediate action to end uses of agricultural pesticides on refuges, including glyphosate, 2,4-D, dicamba and paraquat — all of which have been shown to harm wildlife.
The petition also requested that the Service reverse a decision by the Trump administration allowing use in national wildlife refuges of bee- and bird-killing neonicotinoids and genetically engineered crops. Because GE crops are designed to withstand what would normally be a fatal dose of pesticides, their adoption promotes dramatic increases in pesticide use.
The Obama administration had banned these uses in 2014 following a 10-year campaign that included multiple lawsuits brought by the Center for Food Safety and other public interest groups.