A genetically modified (GM) rice product developed by a group of Chinese scientists has acquired the US Food and Drug Administration (FDA) approval, the first such Chinese product allowed to enter the US market.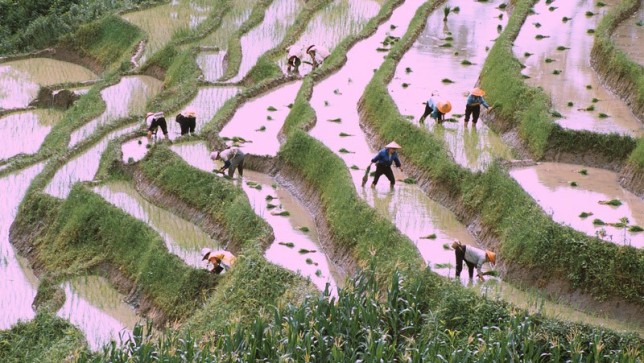 Source: www.globaltimes.cn
However, neither China nor the US has approved mass cultivation of the rice amid low acceptance from the Chinese public for GM food.
Huahui No.1 rice, developed by the Huazhong Agricultural University, is genetically engineered to resist a wide range of insects, thus reducing the use of pesticides.
Lin Yongjun, a professor at Huazhong Agricultural University and one of the scientists that developed the rice, told the Global Times on Monday that Huahui No.1 could not be grown in China as "the country has not conducted regional trials nor provided guidelines to examine genetically engineered rice."
Lin said his team might consider growing Huahui No. 1 in Southeast Asian countries, "but our reach is limited and we hope the authorities can provide funding and legal support."
Lin's university received an email from the FDA on January 11 approving the rice.
The email, which was made public on FDA's website, said, "Based on the safety and nutritional assessment Huazhong has conducted, it is our understanding that Huazhong has concluded that human and animal foods from Huahui No.1 rice grain are not materially different in composition, safety, and other relevant parameters from rice-derived human and animal food currently on the market, and that genetically engineered Huahui No.1 rice grain does not raise issues that would require premarket review or approval by the FDA."
"This shows that the FDA recognizes the data and the experimental method used by Chinese agencies in assessing the safety and nutritional value of Huahui No.1, and that the FDA has confidence in the safety of Huahui No.1 as both food and fodder," Lin said.
The website of Huazhong Agricultural University said Huahui No. 1 was successfully developed as early as 1998 and received a bio-safety certificate from China's Ministry of Agriculture in 2009 after 10 years of safety assessments.
However, the product has never been approved for commercial planting in China, so the school had been seeking safety approval from foreign agencies since 2009 to prepare Huahui No. 1 for the international market.
Low acceptance
GM food remains highly controversial in China. The anti-GM food sentiment among the Chinese public has hindered efforts to develop and apply biotechnology.
One online comment following the news of Huahui No.1 on Sina Weibo that received the most likes demands that scientists grow the GM rice elsewhere.
"Since the Americans approved it, sell it to the Americans," reads another popular comment.
Luo Yunbo, an expert on GM products at China Agricultural University, said that the Chinese government is hesitant to work on GM food-related regulations due to low public acceptance.
"The government wants to take its time on GM food for social stability reason. It has a three-step plan to gradually industrialize GM crops, first on inedible crops, then on vegetables and fruits and the last on staple food such as rice and wheat," Luo said.
"There is still a long way to go before the public accepts GM rice in the market," he noted.
In 2016, Northeast China's Heilongjiang Province, the nation's top grain producing region, prohibited the cultivation of genetically modified crops, including GM corn and soybeans, after 91.5 percent of respondents to a survey conducted in the province raised objections to GM crops.